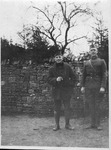 Collection
0559: Benson J. Lubin Papers
Institution
Marshall University Archives and Special Collections
Description
Benson J. Lubin and unidentified soldier, US Army , WWI. Believed to be Lt. Benson J. Lubin on left CAC (Coastal Artillery Corps) which included the 58th & 59th Balloon Companies. Lubin was stationed in France in the 58th Balloon Company.
Subject
Subject Terms: World War I American Expeditionary Forces 58th Balloon Co. Balloons (Aircraft) Military reconnaissance
People: Lubin, Benson J.

Usage Rights
Identifier
1993.02.0559.02.01.03
Recommended Citation
"Benson J. Lubin and unidentified soldier, US Army , WWI" (1918). 0559: Benson J. Lubin Papers, 1904-1935. 5.
https://mds.marshall.edu/benson_lubin_papers/5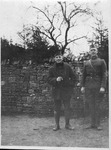 COinS