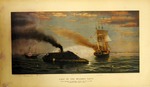 Title
Collection
0703: Rosanna Blake Collection
Institution
Marshall University Archives and Special Collections
Description
Chromolithograph of Last of the Wooden Navy, by G. B. Matthews, This chromolithograph entitled the Last of the Wooden Navy was published by A. B. Graham of Washington, D.C., and based on the 1907 painting by George B. Matthews from a sketch by H.B. Littlepage, a sailor on the Merrimac. It depicts a battle between the Confederate ironclad Merrimac and the wooden US fleet at Hampton Roads, Va., Mar. 8, 1862.
Format
Print (Visual Work)
Subject
Subject Terms: Civil War, 1861-1865 Confederate States of America CSS Virginia (Merrimac) Last of the Wooden Navy Naval prints Naval warfare
People: Matthews, G. B. Littlepage, H. B.

Usage Rights
Recommended Citation
"Last of the Wooden Navy" (1907). 0703: Rosanna Blake Collection, 1818-2000. 103.
https://mds.marshall.edu/blake_collection/103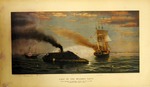 COinS