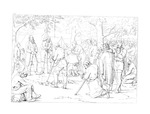 Collection
0703: Rosanna Blake Collection
Institution
Marshall University Archives and Special Collections
Description
Etching #24: "Prayer in Stonewall Jackson's Camp" from Volck's "Confederate War Etchings" folio. From the 1863 copper plates. "The Work of Adalbert Johann Volck 1828-1912," by George McCullough Anderson.
Format
Print (Visual Work)
Subject
Subject Terms: Civil War, 1861-1865 Confederate States of America
Studio: Porter & Coates
People: Volck, Adalbert Johann (1828-1912) Jackson, Thomas Jonathan "Stonewall"

Usage Rights
Recommended Citation
Volck, Adalbert Johann, ""Prayer in Stonewall Jackson's Camp."" (1881). 0703: Rosanna Blake Collection, 1818-2000. 161.
https://mds.marshall.edu/blake_collection/161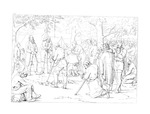 COinS