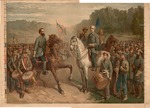 Collection
0703: Rosanna Blake Collection
Institution
Marshall University Archives and Special Collections
Description
Last meeting of Lee & Jackson, May 1, 1863, col. Card glued on back reads: "Representing the last meeting between Gens. Lee and Jackson, the evening of May 1st, 1863," by John G. Fay. Printed in 1877. From the original oil painting.
Format
Print (Visual Work)
Subject
Subject Terms: Civil War, 1861-1865 Confederate States of America Confederate States Army Last meeting of Lee and Jackson Generals Civil War, 1861-1865
People: Jackson, Thomas Jonathan "Stonewall" Lee, Robert E. (Robert Edward), 1807-1870 Fay, John G.

Usage Rights
Recommended Citation
Fay, John G., "Last meeting of Lee & Jackson, May 1, 1863" (1877). 0703: Rosanna Blake Collection, 1818-2000. 187.
https://mds.marshall.edu/blake_collection/187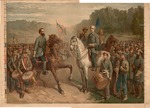 COinS