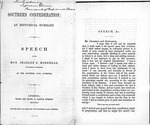 Collection
0703: Rosanna Blake Collection
Institution
Marshall University Archives and Special Collections
Description
Printed speech of Charles S. Morehead at the Southern Club, Liverpool, England, 1862. (photocopy) Title: "Southern Confederacy, an Historical Summary" The Southern Club was the forerunner to the Southern Independence Association, which was the Confederate support group in England. Charles S. Morehead (1802-1868) Charles Slaughter Morehead, governor of Kentucky from 1855 to 1859, was arrested and imprisoned by Union authorities during the Civil War. Although a Southern sympathizer supportive of Kentucky's neutrality, he worked for a peaceful resolution, hoping to avert war. He was critical of the Lincoln administration, and, in September 1861, Union authorities arrested Morehead. Charged with treason and "stirring up and promoting rebellion," he was imprisoned in Fort Lafayette in New York Harbor and Fort Warren in Boston Harbor. Several influential Kentuckians asked for Morehead's freedom. President Lincoln said that if two of his key Kentucky advisors, James Speed and James Guthrie, agreed, Morehead would be released. Guthrie and others concurred, and Morehead left prison in January 1862. He spent most of the remainder of the war in England, Europe, Canada and Mexico.
Subject
Subject Terms: Civil War, 1861-1865 Southern Club Southern Independence Association Southern Confederacy
People: Morehead, Charles S.

Usage Rights
Recommended Citation
"Printed speech of Charles S. Morehead at the Southern Club, Liverpool, England, 1862. (photocopy) Title: "Southern Confederacy, an Historical Summary"" (1862). 0703: Rosanna Blake Collection, 1818-2000. 197.
https://mds.marshall.edu/blake_collection/197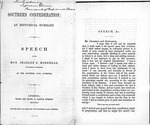 COinS