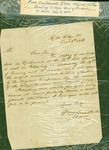 Collection
0703: Rosanna Blake Collection
Institution
Marshall University Archives and Special Collections
Description
Letter from William A. Smith, Pres. of Randolph-Macon College to an unnamed addressee, discussing moving the college because of the Civil War, 8 Dec, 1863. Note attached reads: "Rare Confederate Item--Virginia letter removing college during Invasion by Union, Dec. 8, 1863" Reverse addressed to R. O. Burton.
Subject
Subject Terms: Civil War, 1861-1865 Confederate States of America Randolph-Macon College College presidents
People: Smith, William A. Burton, R. O.

Usage Rights
Recommended Citation
"Letter from William A. Smith, Pres. of Randolph-Macon College to an unnamed addressee, discussing moving the college because of the Civil War, 8 Dec, 1863." (1863). 0703: Rosanna Blake Collection, 1818-2000. 204.
https://mds.marshall.edu/blake_collection/204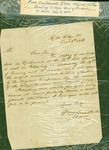 COinS