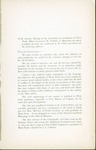 Collection
0703: Rosanna Blake Collection
Institution
Marshall University Archives and Special Collections
Description
Speech by Isaac R. Trimble at annual meeting of West Point graduates, 1884. After the War, and equipped with an artificial leg, Trimble resumed his engineering work. He resided in Baltimore, where he died January 2, 1888. He is one of five Confederate generals, buried in that city's Green Mount Cemetery. Trimble was a graduate of West Point.
Subject
Subject Terms: United States Military Academy West Point Civil War, 1861-1865 Confederate States Army Generals
People: Trimble, Isaac R.

Usage Rights
Recommended Citation
"Speech by Isaac R. Trimble at annual meeting of West Point graduates, 1884." (1884). 0703: Rosanna Blake Collection, 1818-2000. 213.
https://mds.marshall.edu/blake_collection/213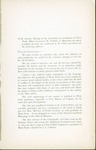 COinS