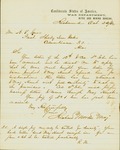 Collection
0703: Rosanna Blake Collection
Institution
Marshall University Archives and Special Collections
Description
Letter from Confederate Maj. Richard Morton of the CSA Nitre and Mining Bureau to A. T. Imes, Pres of Shelby iron Works, 1863. Impressed watermark upper left corner, of seal of State of Virginia. The Nitre and Mining Bureau was formed in 1862 as part of the Confederate Ordnance Dept. The Col. St.John mentioned was Isaac M. St.John, the Civil Engineer who was the head of the bureau. Maj. Richard Morton, author of the letter, was his second in command, and succeeded to the head of the bureau when St. John was promoted to brig. gen. This bureau was in charge of the saltpetre manufacturing facilities in all the Confederate states, as well as the testing lab in Augusta, Ga., and the copper mining facilities necessary for making percussion caps. Also the facilities for making Sulphur and sulphuric acid. This letter talks about testing pig iron for density.
Subject
Subject Terms: Civil War, 1861-1865 Confederate States of America Confederate Nitre & Mining Bureau Confederate States Ordinance Lab Mining Generals
People: St.John, Isaac M. Morton, Richard Imes, A.T.

Usage Rights
Recommended Citation
"Letter from Confederate Maj. Richard Morton of the CSA Nitre and Mining Bureau to A. T. Imes, Pres of Shelby iron Works, 1863." (1863). 0703: Rosanna Blake Collection, 1818-2000. 222.
https://mds.marshall.edu/blake_collection/222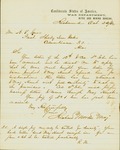 COinS