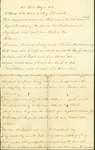 Collection
0703: Rosanna Blake Collection
Institution
Marshall University Archives and Special Collections
Description
Handwritten poem entitled: "Air Root Hog or Die", author unknown, written during the Civil War. Patterned after a pre-Civil War poem of the 1850's. Typed transcription included in the folder. There were several versions of a poem entitled "Root Hog or Die" published in the 1850's, all by anonymous authors. "Root hog, or die" is a common American catch-phrase dating from well before 1834. Coming from the early colonial practice of turning pigs loose in the woods to fend for themselves, the term is an idiomatic expression for self-reliance.
Subject
Subject Terms: Civil War, 1861-1865 Confederate States of America Poetry
People: Jackson, Thomas Jonathan "Stonewall"

Usage Rights
Recommended Citation
"Handwritten poem entitled: "Air Root Hog or Die", author unknown, written during the Civil War. Patterned after a pre-Civil War poem of the 1850's. Typed transcription included in the folder." (2021). 0703: Rosanna Blake Collection, 1818-2000. 229.
https://mds.marshall.edu/blake_collection/229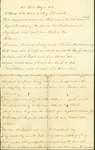 COinS