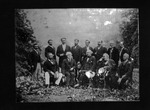 Collection
0703: Rosanna Blake Collection
Institution
Marshall University Archives and Special Collections
Description
Robert E. Lee and friends at White Sulphur Springs, W.Va., in 1869. This is purported to be a print directly from the original. One account is that two different photos were made that day, another account says five were made. The difference is the placement of the men's hats. In the photo are: Robert E. Lee, seated front row, James Connor, Martin W. Gary, John Bankhead Magruder, Robert D. Lilley, P.G. T. Beauregard, A.R. Lawton, Henry A. Wise, Joseph L. Brent, Blacque Bey the Turkish envoy is on Lee's right, and George Peabody is on his left, W.W. Corcoran, and James Lyons.
Subject
Subject Terms: White Sulphur Springs, W.Va. Generals
People: Lee, Robert E. (Robert Edward), 1807-1870 Magruder, John Bankhead (1807-1871) Beauregard, P.G.T. Wise, Henry A. Connor, James Gray, Martin W. Lawton, A.R. Brent, Joseph L. Bey, Blacque Peabody, George (1795-1869) Corcoran, W.W.

Usage Rights
Recommended Citation
"Robert E. Lee and friends at White Sulphur Springs, W.Va., in 1869." (1869). 0703: Rosanna Blake Collection, 1818-2000. 251.
https://mds.marshall.edu/blake_collection/251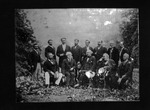 COinS