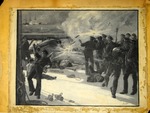 Collection
0703: Rosanna Blake Collection
Institution
Marshall University Archives and Special Collections
Description
Original painting of "Shell Bursting on the Deck of the Alabama," by Michael J. Burns, painting on board.. Artist: Michael J. Burns See appraisal info for auction and apprailal numbers. This was first published in "Century Magazine," Vol XXXI, No. 6, April, 1886.
Format
Painting (Visual Work)
Subject
Subject Terms: Civil War, 1861-1865 Confederate States of America CSS Alabama Boats Naval warfare Battleships
People: Burns, Michael J.

Usage Rights
Recommended Citation
"Shell Bursting on the Deck of the Alabama" (1886). 0703: Rosanna Blake Collection, 1818-2000. 254.
https://mds.marshall.edu/blake_collection/254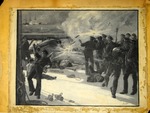 COinS