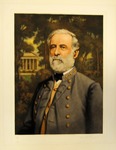 Collection
0703: Rosanna Blake Collection
Institution
Marshall University Archives and Special Collections
Description
Mezzotint color print of Robert E. Lee by T. Hamilton Crawford, 1939. This was printed in England by Frost & Reed Ltd. Mezzotint is a printmaking process of the intaglio family, technically a drypoint method. It was the first tonal method to be used, enabling half-tones to be produced without using line- or dot-based techniques like hatching,
Subject
Subject Terms: Civil War, 1861-1865 Confederate States of America Generals
People: Lee, Robert E. (Robert Edward), 1807-1870 Crawford, T. Hamilton Frost & Reed Ltd.

Usage Rights
Recommended Citation
"Mezzotint color print of Robert E. Lee by T. Hamilton Crawford, 1939." (1939). 0703: Rosanna Blake Collection, 1818-2000. 269.
https://mds.marshall.edu/blake_collection/269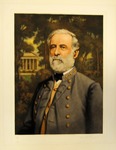 COinS