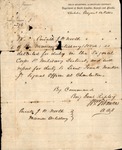 Collection
0703: Rosanna Blake Collection
Institution
Marshall University Archives and Special Collections
Description
Special Order No. 276, issued by Gen. R.S. Ripley, Military Dist. of Dept of SC, Ga and Fla, Aug. 12, 1863. Order reg. Private J. W. North of the Marion Artillery is detached for duty in signal corps. By command of Gen. S C. Ripley, signed by W.W. Vance, AAG.
Subject
Subject Terms: Civil War, 1861-1865 Confederate States of America General Orders Special Orders Generals
People: Ripley, R.S. North, J.W. Vance, W. W.

Usage Rights
Recommended Citation
"Special Order No. 276, issued by Gen. R.S. Ripley, Military Dist. of Dept of SC, Ga and Fla, Aug. 12, 1863." (1863). 0703: Rosanna Blake Collection, 1818-2000. 279.
https://mds.marshall.edu/blake_collection/279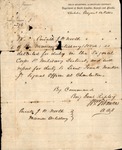 COinS