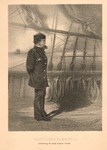 Collection
0703: Rosanna Blake Collection
Institution
Marshall University Archives and Special Collections
Description
Print of Capt. John N. Maffit, Confederte States Navy, by Joseph. E. Baker. Ca. 1863-1865? Baker lived 1837-1914. Did many ship & nautical paintings in 1890's.
Format
Print (Visual Work)
Subject
Subject Terms: Civil War, 1861-1865 Confederate States of America CSS Florida Confederate States Navy Ship captains Boats Blockade running
People: Maffit, Capt. John N. Baker, J. E.

Usage Rights
Recommended Citation
"Capt. John N. Maffit, CSN, commanding the Rebel steamer Florida" (1864). 0703: Rosanna Blake Collection, 1818-2000. 294.
https://mds.marshall.edu/blake_collection/294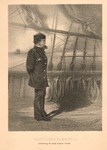 COinS