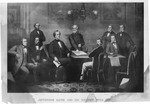 Collection
0703: Rosanna Blake Collection
Institution
Marshall University Archives and Special Collections
Description
Jefferson Davis and his Cabinet with Lee, b&w. This is another and rarer version of two other prints of Davis and his Cabinet.
Format
Print (Visual Work)
Subject
Subject Terms: Civil War, 1861-1865 Confederate States of America Presidents Generals
People: Lee, Robert E. (Robert Edward), 1807-1870 Davis, Jefferson, 1808-1889 Benjamin, J. P. (Judah Philip), 1811-1884 Stephens, Alexander Mallory, Stephen R.

Usage Rights
Recommended Citation
"Jefferson Davis and his Cabinet with Robert E. Lee" (2021). 0703: Rosanna Blake Collection, 1818-2000. 324.
https://mds.marshall.edu/blake_collection/324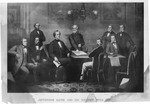 COinS