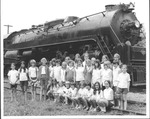 Collection
0010: Catherine Bliss Enslow Papers
Institution
Marshall University Archives and Special Collections
Description
A W.Va. girls tour group in front of Greenbrier Railroad Co. engine 2102 at Marlinton, W.Va., b&w Sharon Underwood, daughter of Gov. Cecil Underwood, and Susan Agee, daughter of William F. Agee, both from Huntington, 2nd and 3rd from right, seated. The Greenbrier Railroad Company of Ronceverte, West Virginia started running steam excursions on May 30, 1971 and ran additional trips on July 11 and 25, August 1 and 8, September 5 and October 10 and 17. The largest operating steam engine in the United States at the time, ex-Reading Railroad's No. 2102, pulled the trips over the C&O Greenbrier Division from Ronceverte to Durbin and return, stopping in Cass where the majority of passengers got off to ride the Cass train to Whittaker and tour the town. Over three hundred railfans from thirty two states rode the initial trip. The Greenbrier Scenic Railroad tours continued through 1974, using C&O GP9 diesels for their last two seasons.
Subject
People: Underwood, Sharon Agee, Susan Underwood, Cecil Agee, William F.
Subject Terms: Railroad locomotives Greenbrier Railroad Co. Marlinton, W.Va.
Usage Rights
Identifier
1973.06.0010.48.07.01
Recommended Citation
"W.Va. girls tour in front of Greenbrier Railroad Co. engine 2102" (1905). 0010: Catherine Bliss Enslow Papers, 1890-1973. 103.
https://mds.marshall.edu/bliss_enslow_papers/103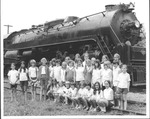 COinS