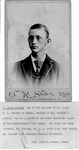 Collection
0099: Cabell-Wayne Historical Society Collection
Institution
Marshall University Archives and Special Collections
Description
Cabinet card of T. Lewis Stewart,16.5 x11cm Mr. T. Lewis Stewart one of the children of Mr. & Mrs. H.W. Stewart of Ceredo and brother of Mrs. Charles H. Hipple. He was one of the first graduates of Ceredo-Kenova High School. The class had three students, Mr. Stewart, Mr. W. W. Smith & Mr. Carl Wright. Mr. Stewart also attended Marshall University. Photo property of Mrs. Clyde K. Dawson, 632 Poplar St., Kenova, W.Va. Photo Studio address 923 Third Avenue, Huntington, W.Va.
Subject
People: Stewart, T. Lewis
Studio: O.R. Staley, Photo.
Subject Terms:Huntington, W. Va.
Usage Rights
Identifier
1975.06.0099.05.VC.05.02
Recommended Citation
"Cabinet card of T. Lewis Stewart" (2021). 0099: Cabell-Wayne Historical Society Collection. 1010.
https://mds.marshall.edu/cabell_wayne_hist_soc_collection/1010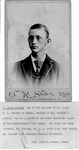 COinS