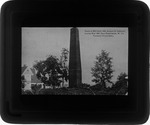 Collection
0543: Cabell Co., W. Va. Public Library Collection
Institution
Marshall University Archives and Special Collections
Description
Caption on print: "Stack of mill built 1856 [sic], burned by Soldiers during War 1862, East Huntington, W. Va. Formerly Guyandotte, W. Va." Guyandotte voted on annexation to Huntington in 1911. A black and white glass lantern slide of a photomechanical print, mounted on cardboard. Lantern slide. Original slide copy of photomechanical print.
Subject
Subject Terms: Guyandotte, W. Va. Buffington Mill Lantern slides Mills Mills
Studio: Victor Animatograph co.

Usage Rights
Identifier
1992.0543.03.0275
Recommended Citation
"Stack of mill built 1856, Guyandotte, W. Va., ca. 1910." (1911). 0543: Cabell Co., W. Va. Public Library, 1848-1984. 39.
https://mds.marshall.edu/cabell_wv_public_public_library/39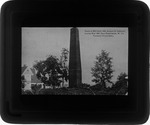 COinS