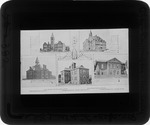 Collection
0543: Cabell Co., W. Va. Public Library Collection
Institution
Marshall University Archives and Special Collections
Description
Caption on print: " Twentieth Street [i.e. Holderby] school, Oley School, 5th Ave. and 13th St., Douglass School, 16th St. and 8th Ave., First Ward Public School, Fourth [Ave.] School, bet. 7th and 8th Sts." Huntington, W. Va., ca. 1900. Photomontage of five school buildings. A black and white glass lantern slide of a photomechanical print, mounted on cardboard. Lantern slide. Original slide copy of photomechanical print.
Subject
Subject Terms: Huntington, W. Va. Twentieth st. school [i.e., Holderby] Oley school Douglass school First ward school [i.e., Buffington] Lantern slides Schools Schools
Studio: Victor Animatograph co.

Usage Rights
Identifier
1992.0543.03.0382
Recommended Citation
"[Schools], Huntington, W. Va., ca. 1900." (1900). 0543: Cabell Co., W. Va. Public Library, 1848-1984. 51.
https://mds.marshall.edu/cabell_wv_public_public_library/51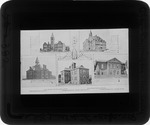 COinS