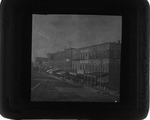 Collection
0543: Cabell Co., W. Va. Public Library Collection
Institution
Marshall University Archives and Special Collections
Description
Huntington, W. Va. Third avenue and 10th street, ca. 1885. A black and white glass lantern slide of a photomechanical print, mounted on cardboard. View of clothing and other retail stores, before Third avenue was paved. Lantern slide. Original slide copy of photograph. Third ave. at 10th st., looking west.
Subject
Subject Terms: Huntington, W. Va. 3rd Ave. 10th St. Zeigler's clothing Lantern slides Streets Streets
Studio: Victor Animatograph co.

Usage Rights
Identifier
1992.0543.03.0066
Recommended Citation
"Huntington, W. Va. Third ave. & 10th st., ca. 1885." (1885). 0543: Cabell Co., W. Va. Public Library, 1848-1984. 8.
https://mds.marshall.edu/cabell_wv_public_public_library/8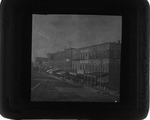 COinS