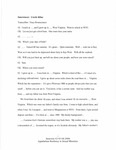 Collection
0705: Carrie Noble Kline Papers
Institution
Marshall University Archives and Special Collections
Description
This is an interview with a gay man in his forties. In it the informant stresses his appreciation for the complexity of life, particularly the value of carefully assessing all elements of one's identity, including regional, sexual, and gender identities, and retaining all that is positive and useful. His early years were spent in a small town in the Southern half of West Virginia and in a neighboring state. He describes adult role models, both parental and teachers, who have helped him to feel free enough to behave differently from societal norms.
Disclaimer: Some of the language in this interview may use outdated terminology or language.
This interview was made available because of the Honors 480 course, Trash or Treasure: An Introduction to Archives during the fall 2021 semester. This item was digitized and metadata was provided by Ashalia Aggarwal.
Place
Appalachia, Rural, West Virginia
Subject
sexual minorities, feminism, kinship, oral history, social acceptance
Usage Rights
Special collections material is obtained from many sources and is intended primarily for research and educational purposes. Certain works may be protected by copyright, trademark, or related interests not governed by the department. It is up to the researcher to verify that they have permission to use these materials for publication or other activities.
Identifier
2001.0705.01.02
Recommended Citation
Kline, Carrie Noble and Anonymous, "Interview #2 Abstract and Transcript, 2001" (2001). 0705: Carrie Noble Kline Papers. 12.
https://mds.marshall.edu/carrie_noble_kline_papers/12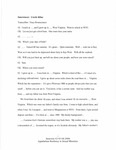 COinS