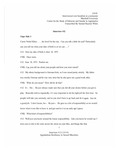 Collection
0705: Carrie Noble Kline Papers
Institution
Marshall University Archives and Special Collections
Description
This bisexual woman in her twenties was raised in a small community in the Southern half of West Virginia as well as another state further south. She portrays her path to self-acceptance, having "tried not to be like this," and having been condemned as a lesbian in her high school. She calls for support groups and a greater understanding for those who are not gay or lesbian, but comfortably bisexual.
Disclaimer: Some of the language in this interview may use outdated terminology or language.
This interview was made available because of the Honors 480 course, Trash or Treasure: An Introduction to Archives during the fall 2021 semester. This item was digitized and metadata was provided by Ashalia Aggarwal.
Place
Appalachia, Rural, West Virginia
Subject
sexual minorities, feminism, kinship, oral history, social acceptance
Usage Rights
Special collections material is obtained from many sources and is intended primarily for research and educational purposes. Certain works may be protected by copyright, trademark, or related interests not governed by the department. It is up to the researcher to verify that they have permission to use these materials for publication or other activities.
Identifier
2001.0705.01.12
Recommended Citation
Kline, Carrie Noble and Anonymous, "Interview #12 Abstract and Transcript, 2001" (2001). 0705: Carrie Noble Kline Papers. 2.
https://mds.marshall.edu/carrie_noble_kline_papers/2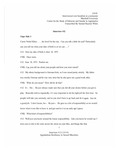 COinS