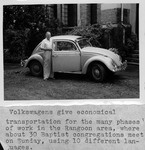 Collection
0525: Doris C. Miller Papers
Institution
Marshall University Archives and Special Collections
Description
Rev. Erville Sowards and his VW beetle in Rangoon, Burma, 1961, b&w. Note on back reads: Erville Sowards and the Volkswagen he drives in Rangoon. Taken in front of apartment by Genevieve. Aug. 25, 1961 and please return to Rev. E. E; Sowards, 143 St. John's Road, Rangoon, Burma.
Subject
Subject Terms: Rangoon, Burma Volkswagens Automobiles
People: Sowards, Erville E.

Usage Rights
Identifier
1990.11.0525.26.04.01
Recommended Citation
"Rev. Erville Sowards and his VW beetle in Rangoon, Burma, 1961" (1961). 0525: Doris C. Miller Papers, 1915-1989. 116.
https://mds.marshall.edu/doris_miller_papers/116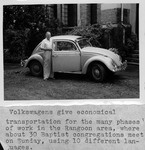 COinS