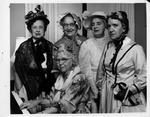 Collection
0525: Doris C. Miller Papers
Institution
Marshall University Archives and Special Collections
Description
Huntington Poetry Guild members, dressed for WV Centennial 1963, b&w. Back reads: WV Centennial 1863-1963, May 28 The Huntington Poetry Guild Party given by laelia R. McDonald at her home, 1430 Blvd Ave, May 8, 1963 Left to right: Mrs. Lillian Lyndman, Deela Diamond, Gertrude Miller, Mrs. O.C. Harvey, seated at piano, laelia McDonald. HUPCO photo stamp.
Subject
Subject Terms: Huntington Poetry Guild West Virginia Centennial Group portraits Poets Poetry
People: McDonald, Lelia Lyndman, Lillian Diamond, Della Miller, Gertrude Harvey, Mrs. O. C.

Usage Rights
Identifier
1990.11.0525.26.22.01
Recommended Citation
"Huntington Poetry Guild members, dressed for WV Centennial 1963" (1963). 0525: Doris C. Miller Papers, 1915-1989. 176.
https://mds.marshall.edu/doris_miller_papers/176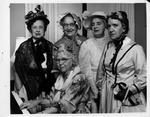 COinS