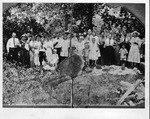 Collection
0525: Doris C. Miller Papers
Institution
Marshall University Archives and Special Collections
Description
Riggs family reunion, early 1900's, b&w. Location probably Wayne County, WV Sketch in same folder identifies most of the individuals: Jim and Ida Riggs, husband and wife (older fellow with mustache and suspenders in right back row). Millard Riggs-(back row third from left) Kenneth Riggs-(with bow tie 11th from left) Roy Riggs (baby held by woman with big hat near right of center) Sid and ora Pelfrey (Mr. & Mrs.-far left) James Riggs (small boy with hat in center right, of crack in photo) For others, see sketch in folder.
Subject
Subject Terms: Riggs Family Reunions
People: Riggs, James Riggs, Ida Riggs, Millard Riggs, Kenneth Riggs, Roy Pelfrey, Sid Pelfrey, Ora Riggs, James Jr.

Usage Rights
Identifier
1990.11.0525.15.14.01
Recommended Citation
"Riggs family reunion, early 1900's," (1910). 0525: Doris C. Miller Papers, 1915-1989. 54.
https://mds.marshall.edu/doris_miller_papers/54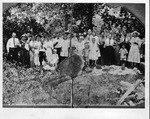 COinS