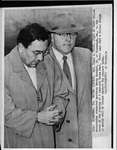 Collection
0525: Doris C. Miller Papers
Institution
Marshall University Archives and Special Collections
Description
Harry Gossard, murderer of Karen Mauk, Nov. 1954, b&w. Typed note states: harry Gossard (left, in handcuffs) and Sgt. James A. Blair, Pa State Police. She was 6 years old, and accosted and murdered in Pa. by Harry Gossard in Oct. 1954. HUPCO stamp.
Subject
Subject Terms: Criminals Criminal investigations
People: Mauk, Karen Gossard, Harry Blair, James A.

Usage Rights
Identifier
1990.11.0525.16.01.08
Recommended Citation
"Harry Gossard, murderer of Karen Mauk, Nov. 1954" (1954). 0525: Doris C. Miller Papers, 1915-1989. 69.
https://mds.marshall.edu/doris_miller_papers/69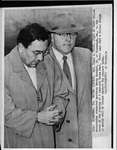 COinS