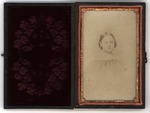 Collection
0418: Whittaker-Glanville Family Papers
Institution
Marshall University Archives and Special Collections
Description
Daguerreotype of wife of Edward Carter as a young girl carried by a Confederate soldier while in POW camp, b&w in folding case. Documentation with photo: Handwritten note describing how it was owned by a Confederate soldier during Civil War when a POW at Vicksburg. It fell out of the mail and was sent to William S. Glanville. (Signed by Arnie Glanville Carter.) Newspaper clipping: paragraph written by Edward L. Carter says it belonged to the girls father, William S. Glanville.
Subject
Subject Terms: Civil War, 1861-1865 Prisoners of war Daguerreotypes
People: Glanville, William S. Carter, Edward L.

Usage Rights
Identifier
1985.09.0418.03.17.01
Recommended Citation
"Daguerreotype of wife of Edward Carter as a young girl, belonged to CSA soldier" (1863). 0418: Whittaker-Glanville Family Papers, 1856-1985. 19.
https://mds.marshall.edu/dorothy_atkins_papers/19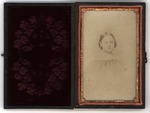 COinS