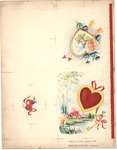 Collection
0842: Dr. and Mrs. Daniel Sharkey Greeting Card Collection
Institution
Marshall University Archives and Special Collections
Description
Oversize, Valentine's Day card art; three-part scene; first scene contains background of house on waterside with trees and flowers, and gold framed red heart and gold key on red ribbon in foreground; second scene contains small hearts with red ribbon and white flowers; third scene contains gold framed heart with scene of house, dirt road, and trees, behind this heart are two gold arrows with red tips and sprigs of blue flowers; "Property Quality Art Novelty Co. Inc. 787 11th Ave N.Y.C." stamped on art; watercolor, acrylic, or pastels, color. This collection consists of original art work, for greeting card companies. This box contains those by unknown artists created during the 1930's and 1940's.
Format
Drawing (Visual Work)
Subject
Subject Terms: Art Greeting cards Valentines Hearts Homes arrows gold flowers key trees countryside water Valentines Day Card art Original art Greeting card art Quality Art Novelty Co.
Studio: Quality Art Novelty Co., Inc.

Usage Rights
Identifier
2018.03.0842.04.17
Recommended Citation
"Home scenes with hearts, arrows, and key" (2021). 0842: Dr. and Mrs. Daniel Sharkey Greeting Card Collection, 1930-1990. 104.
https://mds.marshall.edu/dr_mrs_sharkey_collection/104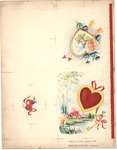 COinS