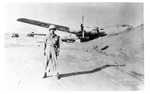 Collection
0846: Earl F. Dickinson Papers
Institution
Marshall University Archives and Special Collections
Description
WWII Pacific Theater, combat photo: wrecked US B-29 Superfortress bomber, b&w. This was probably on Iwo Jima, where the US had two landing sites. These are from a roll of film taken by Dickinson in 1944 & 1945. He was a Marine Sgt. that saw action at Tinian, Saipan, and Iwo Jima. He was born in Princeton, W.Va.
Subject
Subject Terms: United States Marine Corps US Marines World War, 1939-1945 WW II WWII 4th Marine Division Pacific Theater B-29 Superfortress Iwo Jima Marines (Military personnel) Military service Bombers Airplanes
People: Dickinson, Earl F.

Usage Rights
Identifier
2018.05.0846.01.03.02
Recommended Citation
Dickinson, Earl F., "WWII Pacific Theater, combat photo: wrecked US B-29 Superfortress bomber" (2021). 0846: Earl F. Dickinson Papers, 1942-2009. 16.
https://mds.marshall.edu/earl_dickinson_papers/16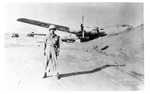 COinS