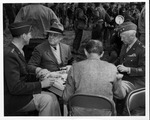 Collection
0799: Jean Edward Smith Papers
Institution
Marshall University Archives and Special Collections
Description
Franklin Delano Roosevelt and U.S. officers at French Morocco, Jan. 21, 1942, b&w. Label on back reads: French Morocco 1/21/42 (Army officer on far left is Gen.Mark W. Clark. Clark was the youngest 3-star general in the army during WWII) Label on back from Franklin Delano Roosevelt Library. (Roosevelt was president from 1933–1945.) This set of roosevelt photos are from Jean Ed. Smith's files and papers used for his book on Franklin Delano Roosevelt.
Subject
Subject Terms: Presidents Generals Peace conferences
People: Roosevelt, Franklin Delano Clark, Gen. Mark W.

Usage Rights
Identifier
2012.11.0799.01.01.21
Recommended Citation
"Franklin Delano Roosevelt and U.S. officers at French Morocco, Jan. 21, 1942" (1942). 0799: Jean Edward Smith Papers. 20.
https://mds.marshall.edu/jean_smith_smith_papers/20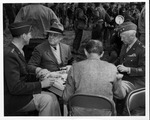 COinS