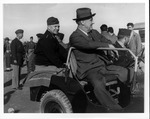 Collection
0799: Jean Edward Smith Papers
Institution
Marshall University Archives and Special Collections
Description
Franklin Delano Roosevelt and Dwight Eisenhower at Castelvetrano, Sicily, Dec. 8, 1943, b&w. Label on back reads: Castelvetrano, Sicily, 12/8/43 (Roosevelt was president from 1933–1945.) This set of roosevelt photos are from Jean Ed. Smith's files and papers used for his book on Franklin Delano Roosevelt.
Subject
Subject Terms: Castelvetrano World War II Presidents Generals
People: Roosevelt, Franklin Delano Eisenhower, Dwight D.

Usage Rights
Identifier
2012.11.0799.01.01.43
Recommended Citation
"Franklin Delano Roosevelt and Dwight Eisenhower at Castelvetrano, Sicily, Dec. 8, 1943" (1943). 0799: Jean Edward Smith Papers. 42.
https://mds.marshall.edu/jean_smith_smith_papers/42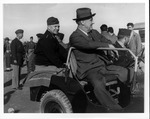 COinS