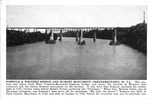 Collection
0847: John Hawes Miller, Jr. West Virginia Postcard Collection
Institution
Marshall University Archives and Special Collections
Description
Runsey Monument and N&W Railroad bridge, Shepherdstown, W.Va., 1938, b&w. No postmark, no addressee. (Site where James Rumsey experimented with the first steam propelled boat.).
Subject
Subject Terms: Rumsey Monument Shepherdstown, W.Va. N. & W. R. R. Norfolk & Western Railway Railroad bridges Bridges Monuments
People: Rumsey, James
Studio: Pub by Shenandoah Pub. House, Strasburg, Va.

Usage Rights
Identifier
2018.07.0847.WVaNbk3.048
Recommended Citation
"Runsey Monument and N&W Railroad bridge, Shepherdstown, W.Va., 1938" (1938). 0847: John Hawes Miller, Jr. West Virginia Postcard Collection, 1910-2000. 100.
https://mds.marshall.edu/john_miller_west_postcard_collection/100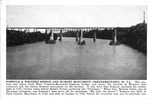 COinS