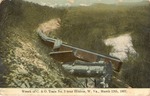 Collection
0847: John Hawes Miller, Jr. West Virginia Postcard Collection
Institution
Marshall University Archives and Special Collections
Description
Wreck of C&O Train No. 3 near Hinton, W.Va., 1907, col., 9 x 14cm. Postmarked Glade(?), W.Va., June 6, 1911 addressed to Mr. John Martin, Ronceverte, W.Va. (The engineer and fireman were killed in this wreck. It was the Fast Flying Virginian, famous passenger train.).
Subject
Subject Terms: Hinton, W.Va. Fast Flying Virginian Chesapeake and Ohio Railroad C&O Railroad Train wrecks Trains Railroad accidents Railroads
Studio: Laing, Humphries & co., Hinton, W.Va.

Usage Rights
Identifier
2018.07.0847.WVaNbk2.020
Recommended Citation
"Wreck of C&O Train No. 3 near Hinton, W.Va., 1907" (1911). 0847: John Hawes Miller, Jr. West Virginia Postcard Collection, 1910-2000. 41.
https://mds.marshall.edu/john_miller_west_postcard_collection/41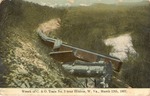 COinS