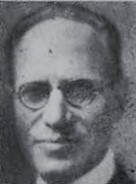 Kemper was the pastor of Temple Baptist Church in Charleston, West Virginia for 11 years. He came to the post from a church in St. Paul, Minnesota, and departed in 1934 to become pastor of the First Baptist Church in Denver, Colorado. He was active in civic and religious affairs during his time in Charleston, holding offices in such organizations as the Ministers Association, the Civic Music Association, and the Davis Child Shelter, part of the
Children's Home Society of West Virginia
. He also published
Faith Unafraid
(1933),
Forty Years a Minister
(1949), and
At Grips with Life (Addresses at Conventions, Anniversaries, and by Radio)
(1940).
Additional information can be found in the January 1, 1934 and February 3, 1972 editions of The Charleston Daily Mail.
Printing is not supported at the primary Gallery Thumbnail page. Please first navigate to a specific Image before printing.
Robert H. Ellison

The User Guide for the Library of Appalachian Preaching is a Google Sheet that can be searched, sorted, and downloaded for offline use.

At the moment, Kemper has only one sermon in the Library; it has a Guide of its own so the records will be complete. It includes the title, sermon text, and so on. This information is available in the master list of sermons as well.

Clarence Worthington Kemper

"Just over the Hill," based on Acts 27:27, is the 3rd sermon in Voices from Templed Hills (Parkersburg, WV: Baptist Banner Publishing Co., 1927). At the time of its publication, Kemper was the pastor of Temple Baptist Church in Charleston, West Virginia.