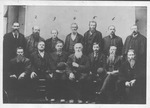 Collection
0227: Marshall University Regional Photograph Collection
Institution
Marshall University Archives and Special Collections
Description
8th Virginia Cavalry reunion, 1893. 1 photograph : b&w. ; 13x18 cm. Digital copy created 2/19/2004 by J.L.Dickinson; printed by A.D. Earles. A copy located in Ms 026, Bx 4, Fd 13. Digital print sold to Gerald Linville, 2/2004. Reunion, Feb. 22, 1893.
Subject
Subject Terms: Border Rangers Civil War, 1861-1865 Confederate States of America 8th Va. Cavalry Veterans Reunions Veterans Groups
People:Dodson, Jesse Sedinger, James D. Hendrick, Leo Baumgardener, James Simmons, Sampson S. Boothe, B. Handley, A. A. (Gus) Shoemaker, Charles Flowers, Thaddeus W. Wolcott, B. A. (Gus) Wilkinson, W. E. Ricketts, Lucien C. Stewart, J. S. Hackworth, Geo. W.

Usage Rights
Identifier
1978.0227.02.15.01
Recommended Citation
Matthews, S. V., "Survivors of Border Rangers, Co. E, 8th Virginia Cavalry, C. S. A." (1893). 0227: Marshall University Regional Photograph Collection. 104.
https://mds.marshall.edu/marshall_regional_photograph_collection/104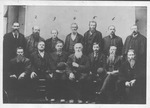 COinS