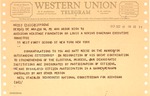 Collection
0834: Matthew A. Reese Papers
Institution
Marshall University Archives and Special Collections
Description
Western Union telegram from Louis Novins, Chair. American Heritage Found. to Neil Staebler & Matthew Reese, Oct. 18, 1965 , col. Neil Staebler was the Democratic National Committeeman from Michigan. Telegram contragulated Staebler and matt Reese on recieving the Outstanding Citizenship Award.
Subject
Subject Terms: American Heritage Foundation Outstanding Citizenship Award Telegrams Awards
People: Reese, Matthew Staebler, Neil Novins, Louis A.

Usage Rights
Identifier
2016.09.0834.SerVI.146
Recommended Citation
"Western Union telegram from Louis Novins, Chair. American Heritage Found. to Neil Staebler & Matthew Reese, Oct. 18, 1965 , col." (1965). 0834: Matthew A. Reese Papers. 126.
https://mds.marshall.edu/matthew_reese_papers/126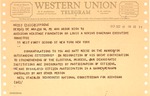 COinS