Preview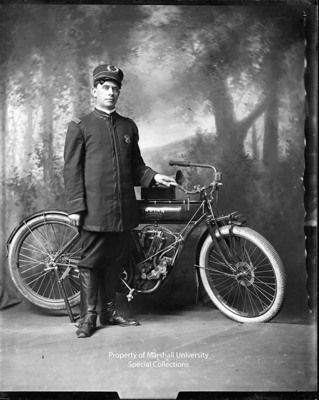 Photo Identifier
MotorcyclePic
Description and Location
ca. 1907
Huntington, W.Va.'s first motorcycle policeman with his Indian motorcycle, ca. 1907.
The Indian motorcycle was a model manufactured by the Hendee Manufacturing Company of Springfield, Massachusetts, from 1901 to 1953. The company was renamed the Indian Motorcycle Manufacturing Company in 1928.
Transportation Category
Motor-driven Vehicles
Media Format
print from a glass plate negative
Photographer/Printer
Proctor Studio, Huntington, W.Va.
Keywords
motor-driven vehicles, early motorcycles, Indian Motorcycle Company, Indian motorcycles, Hendee Manufacturing Company
COinS