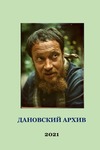 Title
Description
This memorial volume compiles materials about Rostislav Dаnov (1941—1993) of St. Petersburg (Russia), a naturalist, artist, and snake-hunter, who worked for many years in Turkmenistan (West Kopetgagh Mts). The book celebrates Dаnov's 80th birthday. It includes previously unpublished artwork and scientific illustrations by Dаnov as well as his texts, research papers, various memoirs, biographic information, and unique photographs. The book is intended for everyone who is interested in history of science and conservation in Central Asia and the USSR.
Фет В, Коган А, составители. Дановcкий архив. Библиотека Университета Маршалла, Хантингтон, Западная Виргиния, 2021. 494 с. Этот том содержит материалы о петербургском натуралисте, художнике и змеелове Ростиславе Данове (1941—1993), который много лет работал в Туркменистане (Юго-Западный Копетдаг). Книга выпущена к 80-летию Данова. В книгу включены его научные статьи, рисунки (в основном ранее не публиковавшиеся), другие биографические материалы, воспоминания и фотографии. Книга рассчитана на всех, кто интересуется историей науки и охраны природы в Средней Азии и СССР.
Publication Date
11-21-2021
Publisher
Marshall University Libraries
Keywords
Туркменистан, Юго-Западный Копетдаг, Ростислав Данов, охрана природы, заповедники, полевая биология, криптозоология, змеи, леопард, бабочки, снежный человек, Turkmenistan, Southwest Kopetgagh, Rostislav Dаnov, nature conservation, natural reserves, field biology, cryptozoology, snakes, leopard, butterflies, bigfoot
Disciplines
Animal Sciences | Arts and Humanities | Biodiversity | Ecology and Evolutionary Biology | Environmental Sciences | Geography | History | History of Science, Technology, and Medicine | Life Sciences | Natural Resources and Conservation | Physical and Environmental Geography | Physical Sciences and Mathematics | Population Biology | Social and Behavioral Sciences | Zoology
Recommended Citation
Fet V, Коgаn А, editors. Тhe Dаnov Archive. 2021. Huntington, WV: Marshall University Libraries, 2021. 494 p.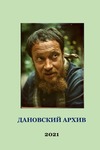 COinS