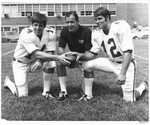 Collection
Marshall University Memorial Plane Crash
Institution
Marshall University Archives and Special Collections
Description
(l to r): Ted Shoebridge, QB, Jim "Shorty" Moss, Bob Harris, QB, 1970 MU football team, b&w. All three were killed in the plane crash. Moss was the offensive coordinator. 75 members, coaches, and fans were killed in November 1970 plane crash.
Subject
Subject Terms: Marshall University; Marshall University -- Sports; Marshall University 1970 Football team; Plane crash; Marshall University plane crash Football players Disasters Aircraft accidents Coaching (Athletics)
Studio: Barta Studio
People: Shoebridge, Ted Shoebridge, Lionel Theodore Moss, Jim "Shorty" Harris, Robert "Bob"

Identifier
20160503.04.57.03
Recommended Citation
"(l to r): Ted Shoebridge, QB, Jim "Shorty" Moss, Bob Harris, QB, 1970 team" (1970). Marshall University Memorial Plane Crash. 101.
https://mds.marshall.edu/mu_plane_crash/101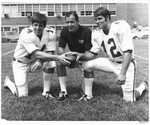 COinS