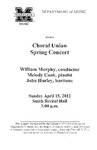 Publication Date
Spring 4-15-2012
Note(s)
William Murphy, conductor
Melody Cook, pianist
John Hurley, baritone
Instrumental Ensemble:
Briana Blankenship, Ben Stern, Daniel Ricks, Justin Bahawi; trumpets
John Bruce, Andrew O'Neal, Jared Layman; trombones
Guy Parker; tuba
Jenna Palmer-Kelly, Andrew Tilley; percussion
Melody Cook, organ
Ralph Vaughan Williams had a great interest in English folk music. Many of his compositions got their inspiration from folk songs. He not only was a composer, but also a professor of music and conductor. One of his major contributions was his collection The English Hymnal, and many of his hymns used today are found in The Hymnal 1982. Among his great compositions for voice is the cycle Songs of Travel.
Five Mystical Songs is a collection based on texts by Welsh metaphysical poet and priest George Herbert. It was originally composed for Baritone, SATB Chorus and Orchestra. Since its conception, there have been multiple arrangements for different size ensembles and even Baritone Solo and Piano. The first four movements are meditative. In the third movement, Love bade me welcome, Vaughan Williams writes into the chorus the plainsong 0 Sacrum Convivium (0 Sacred Banquet), while the soloist sings about the banquet. The final movement, Antiphon is a burst of joy with the full chorus singing praises of "My God and King."
John Rutter is the founder and director of the Cambridge Singers. He has made many conducting appearances in England and the United States for clinics and choir festivals., and has edited Oxford publications including the Carols for Choirs compilations. His music is in a tonal style, that is accessible to a wider range of singers; from the small volunteer church choir to large symphonic choirs. This is possibly the reason why he is so well known and why his music is performed often.
Gloria was written as a concert work. It was commissioned by the Voices of Mel Olson, Omaha, Nebraska, and the composer directed the first performance on the occasion of his first visit to the United States in May 1974. The Latin text, drawn from the Ordinary of the Mass, is a centuriesold challenge to the composer: exalted, devotional and jubilant by turns. Rutter's setting, which is based mainly on one of the Gregorian chants associated with the text, divides into three movements roughly corresponding to traditional symphonic structure. The accompaniment is for brass ensemble with timpani, percussion and organ - a combination which in the outer movements makes quite a joyful noise unto the Lord, but which is used more softly and introspectively in the middle movement. The composer later made a version with full orchestra.
Keywords
choral music, recitals
Disciplines
Arts and Humanities | Fine Arts | Music | Music Performance
Recommended Citation
Murphy, William, "Marshall University Department of Music Presents the Choral Union Spring Concert" (2012). All Performances. 115.
https://mds.marshall.edu/music_perf/115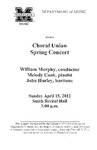 Included in
COinS