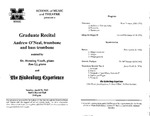 Publication Date
Spring 4-28-2013
Note(s)
Assisted by:
Dr. Henning Vauth, Jiao Li, piano
and The Hindenburg Experience: John Bruce, Jared Layman, Andrew O'Neal, Michael Stroeher
This recital is presented in partial fulfillment of the requirements for the Master of Arts in Music Performance. Andrew O'Neal is a student of Dr. Michael Stroeher.
Tomasi Trombone Concerto
Henri Tomasi was born in Marseilles on August 17, 1901. Early in his career, he was recognized for his conducting, as opposed to his compositions. His Concerto for Trombone was written for the Concours du Conservatorie National de Musique in 1956. This work exemplifies both Tomasi's musical style as well as twentieth century French writing for the trombone.
The concerto is in three movements. The first opens with a dramatic introductory cadenza, followed by an extended development on the primary theme. The second is a nocturne that features permutations of the primary theme and transforms into a faux blues style. The third movement develops more on the primary theme while exploring twentieth-century harmonic techniques such as poly-chordal, quartal and tone clusters.
Elegy for Mippy II
Elegy for Mippy II is a unique, unaccompanied trombone solo by prolific composer and musician, Leonard Bernstein. The piece is written in a jazz influenced style and is to be accompanied by the tapping of the trombonist's foot, mezzo-forte, four to the bar. Bernstein notes on the score that Mippy II was "a mongrel belonging to [Bernstein's] brother Burtie".
Ewazen Trombone Sonata
Eric Ewazen studied composition with Samuel Adler and Milton Babbit and currently serves on the faculty at the Julliard School. Ewazen has added considerably to the literature of many different instruments and large ensembles, but is best known for his contributions to the solo and ensemble brass repertoire.
Composed in 1993, Sonata for Trombone and Piano has quickly become a standard in trombone solo repertoire. Ewazen's unique compositional style is easily recognizable in this work's dramatic melodies and harmonic structures.
Atlantic Zephyrs
Atlantic Zephyrs composed in 1915 by American composer and trombonist Gardell Simons. The piece, originally written for trombone and band, reflects standard solo/band writing of the early twentieth century.
Kazik Trombone Quartet No.2
James Kazik currently serves as staff arranger for Pershing's Own Army Band, staff writer for Hal Leonard Corp. and as composer-in-residence for the Washington Metropolitan Opera. As a composer, Kazik, a trombonist himself, primarily writes works for the trombone and various trombone ensembles.
Quartet No. 2 is highly technical and demanding in all four parts. The work features five movements that take the ensemble through a myriad of musical styles and reflect the composer's compositional eclecticism. Completed in 2005, this work is sure to follow Kazik's earlier works for trombone ensemble and become a staple in ensemble literature.
Keywords
trombone, ensemble, arrangements, recitals
Disciplines
Arts and Humanities | Fine Arts | Music | Music Performance
Recommended Citation
O'Neal, Andrew, "Marshall University Music Department Presents a Graduate Recita, Andrew O'Neal, trombone and bass trombone" (2013). All Performances. 202.
https://mds.marshall.edu/music_perf/202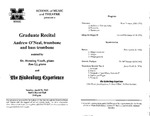 Included in
COinS