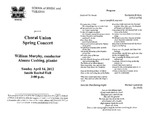 Publication Date
Spring 4-14-2012
Note(s)
Choral Union Personnel:
William Murphy, conductor
Alanna Cushing, pianist
Laura Campbell*, Toni S. Chirico, Ruth Crowe, Tabitha Jackson, Lakedria Lozano, Sue Parker, Frances Plemich, soprano
Faith Balshaw, Mary Beth Brown, Maria Tulia Gómez, Patricia Pierce, Beth Rankin, Lou Spears, Carla Rae Terry, Joyce Wilcox, Heather Wood, alto
Michael Board, Sean Price*, Michael Sidoti, Seth Skiles, Joseph E. Smith, tenor
Daniel Gray*, John L. Hubbard, Guy Parker, Phil Parlock, Graham Rankin, Bill Rath, bass
*Choral Union Scholar
This year marks the 100th Birthday of celebrated British composer Benjamin Britten. He was one of the most influential composers of the Twentieth-Century. With forty choral works ranging from large-scale orchestrations such as the War Requiem, to smaller accompanied and a cappella pieces, one of the most frequently performed is the Festival Te Deum. This piece was composed for the 100th anniversary of St. Mark's Church in Swindon, Wiltshire, England in 1945.
Originally scored for SATB Chorus and Organ accompaniment, it is divided into three continuous sections: a quiet beginning, an energetic middle, and, a peaceful, but intense third section. It is interesting to note that the chorus parts and the accompaniment are in different time signatures, which proves a challenge for the singers who don't have the supportive accompaniment that other composers would give. The ending is most ethereal with the use of the treble solo pleading "let me never be confounded."
Morten Lauridsen is an American-born composer from the Pacific Northwest. He is sought after as a clinician and guest artist among the world of choral music. 0 Magnum Mysterium, Dirait-on (from Les Chansons des Roses), 0 Nata Lux (from Lux Aeterna) and Sure On This Shining Night (from Nocturnes) have become best-sellers of his choral octavos, sung by choral ensembles all over the world. This year also marks the 70th birthday of Lauridsen.
Sure On This Shining Night is a piece from a collection of works entitled Nocturnes. These are four pieces that employ texts about night. This particular text is from the ever popular collection of poems Permit Me Voyage by prominent American Poet, James Agee. Another popular setting of this piece is from a collection of four songs by Samuel Barber. Lauridsen employs compositional techniques of unison, polyphonic harmony and tone clusters to achieve warm, heartfelt emotions not only in the accompaniment but also from the weaving of voices throughout the piece.
In English Romantic music, one of the most well-known composers of choral and orchestral literature is Sir Edward Elgar. His compositions number several genres of choral literature; oratorios, cantatas, anthems and choral/orchestral works to name a few. One of his early choral/orchestral pieces, Scenes from the Bavarian Highlands, comes early in his compositional career, written in 1895.
This piece is a set of six songs whose inspiration comes from the region of Garmisch in Germany. Edward and his wife Alice, had returned to England after a trip from Germany in 1894 exploring the new music of Wagner, of which he was drawn to the "leitmotif" and expanded harmonies. The six pieces contain texts by Alice Elgar and Edward paired the texts with music that have similarities to the folk music and dances of Bavaria. The titles of the songs have subtitles, each of which are places that Alice had favored. They are most enjoyable and have familiar melodies that will leave a whimsical impression on the departing audience.
Keywords
recitals, choral music
Disciplines
Arts and Humanities | Fine Arts | Music | Music Performance
Recommended Citation
Murphy, William, "Marshall University Music Department Presents a Choral Union Spring Concert" (2012). All Performances. 279.
https://mds.marshall.edu/music_perf/279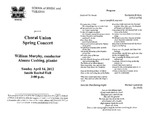 Included in
COinS