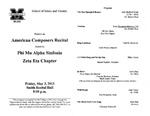 Publication Date
5-3-2013
Note(s)
Phi Mu Alpha Sinfonia is the world's oldest and largest secret national fraternal society in music. Sinfonia was born October 6, 1898 at the New England Conservatory in Boston, when a group of thirteen young men under the guidance of Ossian Everett Mills "to consider the social life of the young men students of that institution [and] to devise ways and means by which it might be improved."
Sinfonia became a national fraternity on October 6, 1900, with the admission of a group of men at the Broad Street Conservatory in Philadelphia. For over a century, Sinfonians in nearly every field of study and professional endeavor have transformed music in America.
The opportunity of becoming a Sinfonian is offered to as many men as possible who, through a love for music, can assist in the fulfillment of the Fraternity's Object and ideals either by adopting music as a profession or by working to advance the cause of music in America.
About the Zeta Eta Chapter
Since its re-chartering in 2006, Zeta Eta has had an outstanding history of providing service to music and advancing music in and around the Marshall University community. The re-chartering of the Zeta Eta chapter was on April 8, 2006, and since then has been providing brotherhood to male students of Marshall University who share a strong love for the art of music and music education.
Our members come from all around campus, not just the music department. Departments represented have included: business, pre-med, biology, journalism, engineering and many more. The Zeta Eta chapter has been responsible for the development of some 258 Sinfonians, many of which have become great music educators, musicians and professionals in their fields.
The future of the Zeta Eta chapter is very bright, and they look forward to their continued involvement in and around Marshall University.
Zeta Eta Chapter Member Roster
Dr. Sean Parsons, Faculty Advisor
Dr. Ben Miller, Faculty Advisor
Phillip Bailey*, Christian Griswald, Michael Rose, Nicholas Bragg, Nick Hartley, Christian Rudloff, Jordan Carinelli, Josh Corder, Ryan Dick*, Jacob Hoskins, Sean McCallister, Colin Milam, Derek Staley, Stephen Trumbo, Justin Evans, Matthew Murphy, Peter Gallus , Marshall Rickman, *Class of 2013
Disciplines
Arts and Humanities | Fine Arts | Music | Music Performance
Recommended Citation
Marshall University, "Marshall University Music Department Presents an American Composers Recital, Hosted by Phi Mu Alph Sinfonia, Zeta Eta Chapter" (2013). All Performances. 281.
https://mds.marshall.edu/music_perf/281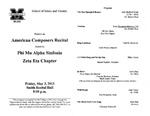 Included in
COinS