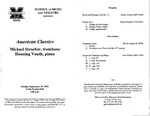 Publication Date
Fall 9-29-2013
Note(s)
Henry Cowell (1897-1965): Hymn and Fuguing Tune No. 13 (1960)·
Henry Cowell, a pioneer in the American musical avant-garde movement, led a life as unconventional as some of his compositions. His parents, philosophical anarchists, did not believe in conventional education; he was home-schooled by his mother after the third grade. He began composing around the age of ten, and ultimately, his talents were noticed by psychologist Lewis Terman (of IQ test fame) and musicologist Charles Seeger, who provided Cowell tuition support to attend the University of California at Berkeley. Following army service in World War I, Cowell composed a number of piano works using unconventional techniques such as tone clusters and manipulating piano strings directly without the keyboard. He was an advocate for modernism in music, founding both the California New Music Society and the periodical, New Music. In 1936 he was arrested on a morals charge and served four years in San Quentin, where he led the prison band. On his release, Cowell moved to New York where he taught at Columbia University, the New School for Social Research, and the Peabody Conservatory. Among his later pupils was the popular composer Burt Bacharach.
The Hymn and Fuguing Tune is based on a form that was present in early American colonial singing schools and Cowell's use of the style results from his interest - in addition to the avant-garde - in primitivism and world music. He wrote Hymns and Fuguing Tunes for a variety of instrumental resources, including viola, cello, soprano and contrabass saxophones, carillon, and string quartet. After a hymn-like section, the fuguing begins, marked by overlapping entrances of the melody.
Samuel Barber (1910-1981): Sonata, op. 6 (1932)
Samuel Barber's musical abilities were apparent at an early age: he composed his first opera at age ten, and at 15 entered the Curtis Institute of Music in Philadelphia. His composition teacher at Curtis, Rosario Scalero, and subsequent European travels influenced Barber's stylistic affinity for European Romanticism, which is evident in his most-performed pieces, the Adagio for Strings, the overture to The School for Scandal, and the Violin Concerto.
The Sonata, op. 6 originally was written for violoncello in 1932 and is dedicated to Scalero. It hails from the same period as the School for Scandal (1931), the String Quartet (1936, the second movement of which was adapted into the Adagio), and the Violin Concerto (1939); it shares with these pieces many stylistic elements and melodic/harmonic gestures. The first movement is a classic sonata form, with an agitated first section followed by an intensely lyrical theme heard twice, the second time in canon. After a short development, the first theme reappears, rhythmically augmented, with a freely expressive cadenza leading back into the lyrical theme and a final coda. The second movement consists of a light, happy scherzo framed by a slow, simple, intense, melody illustrating Barber's Romanticism at its most expressive. The third movement follows a modified sonata process punctuated by rhythmically free cadenza-like passages, building to an intense climax. Barber's Sonata lends itself well to performance on the trombone, with only a few changes of octave; there are few multiple stops or excessively technical passages, and its lyricism is eminently suited to the trombone.
David Amram (b.1930): Trombone Alone (1996)
David Amram, one of today's most versatile musicians, was the pioneer of jazz French hom in the New York jazz scene of the 1950s, and is a pianist, multi-instrumentalist, and composer working in a large variety of genres. He was chosen by Leonard Bernstein to be the New York Philharmonic's first composer in residence, and has collaborated with, among others, Dizzy Gillespie, Willie Nelson, Thelonious Monk, Charles Mingus, Lionel Hampton, Johnny Depp and Tito Puente. He is a prize-winning film music composer; among his credits are the soundtracks to Splendor in the Grass and the original Manchurian Candidate.
Trombone Alone was written in 1996 and premiered that year by David Loucky. It consists of two movements, the first of which, Arietta is mildly chromatic but tonally centered in F major and D minor, in ABA for, with the middle section slightly more agitated than the calm, reflective outer sections. The second movement is a set of three variations on a jazz-inflected theme, rounded out by a recapitulation of the original theme and an even more jazz­ inflected ·coda. The first variation is in a smooth, singing style; Variation II alternates between a blues style and alla turca (a designation hearkening back to 18th century Vienna: "in the Turkish style"); Variation Ill pays homage to the raucous gut-bucket school of trombone playing.
Alec Wilder (1907-1980):Sonata for Trombone and Piano (1961)
Alec Wilder's Trombone Sonata, written for my teacher John Swallow in 1961, is one of a number of pieces Wilder composed for the members of the New York Brass Quintet, including five brass quintets, sonatas for tuba, trumpet, horn, and euphonium (also written for Swallow). Wilder, a native of Rochester New York was largely self-taught as a composer, though he had private lessons at the Eastman School of Music. He found work in the 1930s and '40s in New York as a songwriter and arranger, writing and arranging for such performers as Cab Calloway, Bing Crosby, and Frank Sinatra. In the 1950s he left popular music behind and turned to art music composition, writing some 300 works for a wide variety of instrumental combinations. He adopted a (for the time) unique and personal musical language that blended jazz and art music elements, a style that caused him to be largely rejected by "serious" musicians in both quarters, despite a wide number of performances by musicians revered in each of these traditions (among them, jazz artists Stan Getz and Marian McPartland, tubist Harvey Phillips, and bassist Gary Karr).
Keywords
recitals, trombone, arrangements
Disciplines
Arts and Humanities | Fine Arts | Music | Music Performance
Recommended Citation
Stroeher, Michael and Vauth, Henning, "Marshall University Music Department Presents an American Classics, Michael Stroeher, trombone, and Henning Vauth, piano" (2013). All Performances. 282.
https://mds.marshall.edu/music_perf/282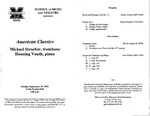 Included in
COinS