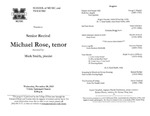 Publication Date
Fall 11-20-2013
Note(s)
assisted by:
Mark Smith, piano
Angela Scoulas, Olivia Hay, violin
Dr. E. Reed Smith, viola
Dean Pauley, cello
Nicholas Bragg, horn
Laura Campbell, soprano
Mycah Pemberton, mezzo-soprano
Robert Nunez, baritone
Mr. Robert Wray, bass
This recital is presented in partial fulfillment of the requirements for a Bachelor of Fine Arts degree in music performance. Mr. Rose is a student in the voice studio of Mr. Robert Wray.
Program Notes:
George Frideric Handel (1685-1759) was a composer famous for his operas and oratorios. Jephtha is an oratorio written in 1751 based on the story of Jephtha from the biblical text of Judges, Chapter eleven. The story centers on Jephtha's promise to God that if he is delivered victorious from battle, that he will sacrifice the first creature he encounters upon his return. Upon his return he is met by his daughter Iphis. In the oratorio the character of Jephtha's recitative "Deeper and deeper still" and "Waft her, Angels" occur separately in the work. However, during the 19th century these two separate parts of the oratorio were often performed together in concert, as if the recitative directly preceded the aria. In the recitative Jephtha expressed his woe and grief over what he knows he must do, and curses himself for ever making such a promise. In the aria, Jephtha pleads with angels to gently carry his daughter to heaven and to keep her safe there forever.
Franz Peter Schubert (1797-1828) was an Austrian composer. Although Schubert only lived to be thirty-two years old, he wrote almost 1,000 works in a remarkably short career. The only concert given in Schubert's lifetime entirely devoted to his own music was given, appropriately enough, on the first anniversary of the death of Beethoven on March 26, 1828. For the occasion, Schubert presented a cunning mixture of vocal and instrumental music, including several newly composed works. Among these were his setting of Ludwig Rellstab's "Auf dem Strom" (On the River), a poem originally given to Beethoven for musical setting, but which Beethoven did not live long enough to accomplish. Written with the high tenor Ludwig Titze and hornist Josef Lewy in mind (the pianist would of course have been the composer), Schubert created a work that takes Rellstab's poem of death and transfiguration and composes it in the memory of Beethoven.
Charles-François Gounod (1818-1893) was a French composer who wrote in may genres. Perhaps the one Gounod is best known for is opera. Gounod wrote his first opera, Sapho, in 1851. However, he had no great theatrical success until Faust (1859), derived from Goethe. This remains the composition for which he is best known and although it took a while to achieve popularity. Faust is a grand opera in five acts with libretto by Jules Barbier and Michel Carré from Carré's play Faust et Marguerite. It is also loosely based on Johann Wolfgang von Goethe's Faust, Part 1. It debuted at the Théâtre Lyrique on the Boulevard du Temple in Paris on 19 March 1859. The aria Salut! Demeure chaste et pure is sung by Dr. Faust idealizing Marguerite as a pure child of nature.
Giacomo Puccini (1858-1924) was an Italian composer whose operas are among the most frequently performed in the standard repertoire. Madama . Butterfly (Madame Butterfly) is an opera in three acts by Giacomo Puccini, with an Italian libretto by Luigi Illica and Giuseppe Giacosa. In the aria Amore o grillo Pinkerton admits to Sharpless (a friend) that he does not know whether he is really in love or just infatuated, but he is bewitched with Butterfly's innocence, charm and beauty, and will do "no great harm, even if Butterfly falls in love."
Ralph Vaughan Williams (1872-1958) was an English composer of symphonies, chamber music, opera, choral music, and film scores. He was also a collector of English folk music and song. This collecting activity influenced both his editorial approach to the English Hymnal, in which he included many folk song arrangements as hymn tunes, and several of his own original compositions. Vaughan Williams' music has often been said to be characteristically English. Four Hymns, for tenor voice, piano, and viola obbligato, is a liturgical song cycle finished in 1911. In setting the four hymns to music, Vaughan Williams chose poems by Jeremy Taylor, Isaac Watts, Richard Crashaw, and Robert Bridges (a translation from the Greek).
Samuel Osmond Barber II (1910 -1981) was an American composer of orchestral, opera, choral, and piano music. His Adagio for Strings has earned a permanent place in the concert repertory of orchestras. Also widely performed is his Knoxville: Summer of 1915, a work for soprano and orchestra, which sets a prose text by James Agee. Barber was no stranger to setting the text of poets to music, and that is certainly seen in his settings of the American Poet Robert Frost's Poem "Stopping by Woods on a Snowy Evening", and James Agee's poem "Sure on this Shining Night." In "Stopping by woods ..." Barber depicts the subjects' footsteps and his horses' bells, in the piano part while the singer acts as narrator. Agee's poem "Sure on this Shining Night" is one set by numerous composers and even Barber edited this song into a piece for piano and SATB chorus.
Aaron Copland (1900-1990) was an American composer, composition teacher, writer, and later in his career a conductor of his own and other American music. Instrumental in forging a distinctly American style of composition, Copland is often referred to as "the Dean of American Composers." The Tender Land is an opera with music by Aaron Copland and libretto by Erik Johns. The opera tells of a farm family in the Midwest of the United States. Copland was inspired to write this opera after viewing the Depression-era photographs of Walker Evans and reading James Agee's "Let Us Now Praise Famous Men". It premiered on April, 1954 at the New York City Opera. The most popular song from the opera is a quintet, "The Promise of Living."
Note
Trinity Episcopal Church, Huntington, WV
Keywords
recitals, vocal music, tenor
Disciplines
Arts and Humanities | Fine Arts | Music | Music Performance
Recommended Citation
Rose, Michael, "Marshall University Music Department Presents a Senior Recital, Michael Rose, tenor" (2013). All Performances. 297.
https://mds.marshall.edu/music_perf/297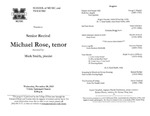 Included in
COinS