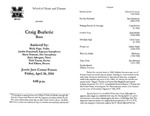 Publication Date
4-26-2014
Note(s)
Assisted by:
Molly Page, Violin
Jarohn Grandstaff, Soprano Saxophone
Bryce Duncan, Alto Saxophone
Zach Arbogast, Piano
Nick Vassar, Guitar
Rod Elkins, Drums
Spunky Sprawl
Esbjörn Svensson
Before his untimely death in 2008, Esbjörn Svennson was one of Europe's most successful jazz musicians. Starting as a rock musician in his early years, Svennson transitioned to classical and then jazz, cutting his teeth in the Swedish jazz scene in the 1980's. It's during this time he met percussionist Magnus Öström and bassist Dan Berglund and fanned Esbjörn Svennson Trio. E.S.T. immediately found audiences in Europe and the United States, becoming the first European jazz combo to be featured on the cover of Downbeat Magazine in May, 2006.
Spunky Sprawl is a modified 12-bar blues form. Although the quarter note tempo is a relatively slow one, the driving eighth note pulse and sixteenth note piano ostinato gives the tune a double time feel. The harmonic structure is that of a simple blues progression (I IV I V IV I), with one exception: Svennson replaces the IV chord with a bVI9 this creates surprisingly smooth transitions through the changes, probably because the notes found in the bVI9 are also found in the fully altered I chord. Spunky Sprawl is a refreshing take on the well-traveled set of chord changes known as the simple blues form.
Bye Bye Blackbird Music by Ray Henderson
Arr. by Christian McBride
Originally recorded in 1926 the tune did not become a standard of jazz repertoire until the mid-1950s when it was featured in a motion picture set in the 1920's, Pete Kelly's Blues. Less than a year later it was recorded by Miles Davis on his landmark Colombia recording 'Round About Midnight; at this point Bye Bye Blackbird became a staple of modern jazz repertoire. For this performance, the arrangement is taken from the live album Super Bass. Originally performed as a bass duet between Christian McBride and Ray Brown, I have arranged the piece for a trio of bass, drum set, and guitar, and will be playing a transcription of McBrides improvised solo on the tune.
Walking 'Round All Nostalgic by Craig Burletic
The ability to compose is just one attribute of the diverse skill-set that every modern jazz musician is expected to possess. It gives the performer the opportunity not only to express themselves through the vehicle of an improvised solo, but through the entirety of the piece. This changes the process from taking an existing piece and turning it into your own, to making something new out of virtually nothing.
The tune is a standard AABA 32-bar form. My composition process involved finding a melody and bass movement I liked at a piano, and then using that information to fill in the harmonies I wanted. The tune has very specific dynamic instructions to contrast the aesthetic/nonfunctional changes, giving movement to the piece. The title reflects my general state of mind completing the last semester of my undergraduate studies, as well as my aptitude for being sentimental.
Greasin' Easy Music by Hank Mobley
Arr. and Lyrics by Craig Burletic
Often overshadowed by other great saxophonist such as John Coltrane and Sonny Rollins, Hank Mobley has been regarded as "one of the most underrated musicians of the bop era." However, Mobley offered a unique skill set, by delivering a tone that was not as abrasive as his figures never thought possible on the instrument. His exploration of chords, textures through electronics, and other nuances gave the jazz fusion movement a pulse just as it was running out of steam.
The most prominent musical characteristics of Teen Town are the carefully interspersed sections of atmospheric breaks between virtuosic bass motives. This piece is odd in nature utilizing effected bass and synthesized textures, the sporadic bass lines are interjected furiously between light fills of the soprano saxophone and synthesizer. Pastorius named the tune after a skating rink in Florida, where he was from. The steady disco beat in the drum set is reminiscent of the kind of sounds that would be found there. Pastorius' sound and compositions left a lasting impression on not only bass players, but change the trajectory of jazz as a whole.
Note
Jomie Jazz Center Forum
Disciplines
Arts and Humanities | Fine Arts | Music | Music Performance
Recommended Citation
Burletic, Craig, "Marshall University Music Department Presents Craig Burletic, Bass" (2014). All Performances. 337.
https://mds.marshall.edu/music_perf/337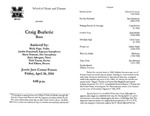 Included in
COinS