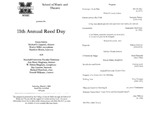 Publication Date
Spring 3-1-2014
Note(s)
Guest Artists: Michael S. Lippard, clarinet, Wesley Miller, saxophone, Matthew Morris, bassoon
Marshall University Faculty Clinicians: Ann Marie Bingham, clarinet W. Edwin Bingham, saxophone Kay Lawson, bassoon Richard Kravchak, oboe Donald Williams, clarinet
Marshall University Clarinet Choir
The Buffalo Clarinet Ensemble
Marco's Double Reed Band
Marshall University Saxophone Ensemble
The Herd of Thundering Saxophone
Guest Artists:
Dr. Michael S. Lippard is on the faculty at York College of Pennsylvania where he teaches the clarinet studio. Michael's activities at the College also include lecturing Music Appreciation, Fundamentals of Music Theory, and instructing clarinet for the York College Preparatory Music Program. Before relocating to York, Michael was on faculty at Sul Ross State University. He has performed many clinics for band programs in the West Texas area as well as the Juniata Valley area of Pennsylvania. Michael has also taught music in public and private schools in the Boulder and the Indianapolis areas.
Michael is an active recitalist in the Central Pennsylvania area including York, Elizabethtown and Lancaster. He has also performed with orchestras in Texas, Michigan, Colorado, Wyoming, Indiana, and Virginia. Michael enjoys his summers teaching and performing in Michigan on faculty at the Blue Lake Fine Arts Camp.
Dr. Lippard holds a Bachelor of Music in Education from James Madison University, a Master of Music in Clarinet Performance from Northwestern University, and a Doctorate of Musical Arts in Clarinet Performance and Pedagogy at the University of Colorado at Boulder. During his time at the University of Colorado he was the 2002 Concerto competition winner and was also awarded the Wallace F. Fiske Performance Award. His Teachers have included clarinetists Daniel Silver (Professor of Clarinet, CU), Russell Dagon (retired principal, Milwaukee Symphony Orchestra), Clark Brody (retired principal, Chicago Symphony Orchestra), Leslie Nicholas (former Professor of Clarinet, JMO).
Wesley Miller holds a Bachelor's Degree in Saxophone Performance from Bowling Green State University where he was a student of Dr. John Sampen. He has performed with the Tulsa Philharmonic, Adrian Symphony, Toledo Symphony, Toledo Concert Band, Columbus Symphony, the United States Navy Band Woodwind Quintet, University of Kentucky Orchestra, Bowling Green Philharmonia, the Lexington Philharmonic and the Lancaster Festival Orchestra. As one of the original members of the Black Swamp Saxophone Quartet, Wes was a First Prize Winner of the 1992 Wind Division of the Fischoff Chamber Music Competition. He has also had the pleasure of participating in masterclasses with Claude Delangle (Paris Conservatory), Don Sinta (Univ. of Michigan), and Fred Hemke (Northwestern University). Currently he is one of the owners of Columbus Music Academy Ltd. where he teaches private lessons, coaches small ensembles, conducts the CMA New Horizons Band and the CMA Buckeye Band for Home Schoolers. He is also the band director at St. Matthew, St. Pius X and KlPP Journey Academy schools and Adjunct Professor of Saxophone at Capital University in Columbus, Ohio.
Matthew Morris is currently Instructor of Bassoon/Music Theory at Ohio University, Matthew Morris holds Degrees from Florida State University, Baylor University and East Carolina University respectively and has held teaching positions at The University of Virginia, Valdosta State University and Baylor University. His Principal teachers were Jon Pederson; Principal Bassoon, The North Carolina Symphony, Brian Kershner; Baylor University, and William Winstead; Florida State University. Dr. Morris has appeared in numerous festivals, concert series, radio and television broadcasts, studio and commercial recordings, Chamber music series and orchestral performances in the United States and abroad, including appearances at Carnegie Hall, the Bolshoi Theater, the Kennedy Center for the Performing Arts in Washington D.C., and seven IDRS world premieres. He has presented Master Classes, conducted workshops, and served as an adjudicator on the junior high, senior high and college levels. In addition to his activities as a teacher and performer, Dr. Morris has created a number of arrangements for double reeds, saxophones and has served as producer and editor for Compact Disc Recordings
Rights
Due to management and copyright recording of this performance are not available.
Disciplines
Arts and Humanities | Fine Arts | Music | Music Performance
Recommended Citation
Lippard, Michael; Miller, Wesley; Morris, Matthew; Bingham, Ann; Bingham, Ed; Lawson, Kay; Kravchak, Richard; and Williams, Donald, "Marshall University Music Department Presents the 11th Annual Reed Day, Guest Artists, Michael S. Lippard, clarinet, Wesley Miller, saxophone, Matthew Morris, bassoon, and, Marshall University Faculty Clinicians, Ann Marie Bingham, clarinet, W. Edwin Bingham, saxophone, Kay Lawson, bassoon, Richard Kravchak, oboe, Donald Williams, clarinet" (2014). All Performances. 345.
https://mds.marshall.edu/music_perf/345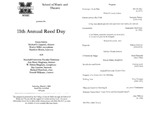 Included in
COinS