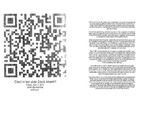 Publication Date
4-1-2011
Note(s)
Zack Merritt, piano, electronics, marimba, conductor
Kaitlin Despain, girl
Michael Rose, boy
Allie Hughes, accordion
Dustin Moraczewski, electric guitar
Ethan Howard, string bass
Chris Miller, piano
Andrew Winter, drum set
Jake Arnoldi, ukulele
Carl Hamlin, flute
Andrew O'Neal, Karen Barnett, Jared Layman, trombone
Jen Billups, soprano
Jason Mitchell, soprano saxophone
Kriss Liegey, dancer
Emily Crabtree, alto flute
Adam Stephenson, King George Ill
Briana Blankenship, Chris Chapman, Matt Chaffins, trumpet
Mindy Kelle, Kriss Liegey, mellophone
Adam Phillips, sousaphone
Jenna Palmer, percussion
Using divergent media, Zack Merritt creates vignettes that are suspended in time and blur the boundaries between reality and fantasy. His works are presented in a framework that encourages audience participation and interpretation.
"My work is as simple as you think it is."
Mr. Merritt's work has been performed regionally on recitals and festivals including the 2010 SCI Student Notional Conference and 2011 Marshall University Festival of New Music. He frequently collaborates with poet Ashleigh Gill, and the two have started their own theatre company, Ars Creo, creating full-scale productions each summer since 2009. Merritt is in the process of obtaining his BFA in Music Composition at Marshall University (Graduation May 2011). He studies composition with Mark Zanier, saxophone with Ed Bingham, and is an officer in various organizations at Marshall including Society of Composers Inc., MENC: The National Association tor Music Education, and Phi Mu Alpha Sinfonio. Upon graduating, he plans to earn a terminal degree in the field, and hopes to one day open an arts school whose mission it will be to teach creative work in the context of free exploration and disciplined work.
Merritt is a vegetarian who greatly enjoys various curries. His other interests Include thinking, l'français, knitting, and Google Earth.
This recital is being presented in partial fulfillment of the requirements for a Bachelor of Fine Arts degree in Composition. Mr. Merritt is a student in the composition studio of Dr. Mark Zanter.
Note
Jamie Jazz Center Forum
Note
Across the Marshall Campus
Disciplines
Arts and Humanities | Fine Arts | Music | Music Performance
Recommended Citation
Merritt, Zack, "Marshall University Music Department Presents Ceci n'est pas Zack Merritt" (2011). All Performances. 418.
https://mds.marshall.edu/music_perf/418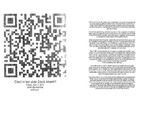 Included in
COinS