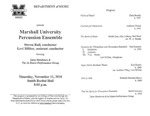 Publication Date
Fall 11-11-2010
Note(s)
Steven Hall, conductor
Levi Billiter, assistant conductor, vibraphone
Lana Mendonca & In Dance Performance Group
Program Notes
Feel The Spirit
John 3:16
"For God so loved the world that He gave His one and only Son, that whoever believes in Him shall not perish but have eternal life.''
I Corinthians 2:9, 10
However, as it is written: "No eye has seen, no ear has heard, no mind has conceived what God has prepared for those who love Him" -but God has revealed it to us by His Spirit. The Spirit searches all things, even the deep things of God.
1 John 4:7,8
Dear friends, Let us love one another, for love comes from God.
Everyone who loves has been born of God and knows God.
Whoever does not love does not know God, because God is love.
Lana Mendonca
Born and raised in Brazil, Lana Mendonca has been dancing for over twenty years and has been teaching for ten years. Lana's style reflects the influence of her background training in Ballet, Tap, Jazz, Modern and Latin Dance. Her versatility has given her the opportunity to perform in TV commercials, music videos, concerts and a film. In Australia, Lana performed in a professional Samba group and has toured internationally through China. She has a Bachelor degree in Physical Education, AFFA Group Fitness
Certification, and is a Licensed Massage Therapist.
Personnel:
Keith Bailey, Daniel Beahm, Levi Billiter*, Justin Bowe, Michael Cochran, Joseph Crowe, Anna Maria Firth, Chris Grizzell, James Hairston, Jacob Hoskins, Sean McCallister, Daniel Miller, Ross Patrick, Mercedes Roten, Aaron Statler *, Derek Staley, Tyler Stewart, Reece Watkins, Amanda Young
* graduate student
Keywords
recitals, percussion ensemble, arrangements
Disciplines
Arts and Humanities | Fine Arts | Music | Music Performance
Recommended Citation
Hall, Steven and Billiter, Levi, "Marshall University Music Department Presents the Marshall University Percussion Ensemble, Steven Hall, conductor, Levi Billiter, assistant conductor, featuring, Lana Mendonca & The In Dance Performance Group" (2010). All Performances. 450.
https://mds.marshall.edu/music_perf/450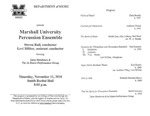 Included in
COinS