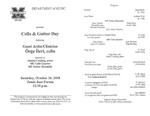 Publication Date
Fall 10-16-2010
Note(s)
Özge İleri, cello
Alanna Cushing, piano
Pedró Silva, Andrei Uller, guitar
MU Guitar Ensemble
Júlio Alves, director
Jason Breslin, Daniel Ferreira, Michael Pitannielo, Pedró Silva, Andrei Uller
MU Cello Quartet
Dean Pauley, James Thompson, Josh Wassum, Ezgi Karakus
Cello & Guitar Ensemble
Şölen Dikener, Julio Alves, conductors
Dean Cornell, Sharon Fulks, David Hey, Özge İleri, Ezgi Karakuş, Dean Pauley, Elider diPaulo, Rachel Satterfield, James Thompson, Josh Wassum, Abby Weible, cello
Jason Breslin, Daniel Ferreira, Michael Pitannielo, Pedró Silva, Andrei Uller, guitar
Biographies
Özge İleri (b.1982) began her music education in 1993 at Hacettepe University State Conservatory, Ankara, Turkey with Tufan Tolga. During her education he worked with Çağlayan Ünal and graduated from the cello studio of Erdoğan Davran in June 2003. She has graduated from Marshall University M.A.
Cello Performance program where she worked with Dr. Şölen Dikener and participated at the Marshall University ensembles, and she had chance to give many recitals at the university and graduated in May 2006. At the present time, Özge İleri has completed the D.M.A. cello performance program at University of Memphis where she studied in the studio of Leonardo Altino and she is in the process of writing her doctoral dissertation.
Alanna Cushing has earned degrees from Marshall University and Bowling Green State University. She has appeared as a soloist and collaborative artist throughout much of the midwest. Ms. Cushing has a strong interest in playing new music. She has premiered works by Kristen Kuster, Mark Zanter, Erik Lund, and Graham Lynch. This past March, Ms. Cushing participated in the 2010 Society of Composers National Convention, where she gave the world premiere of Intermezzo for prepared piano, by Jose-Luis Hurtado. Her most recent collaborative work includes recitals given with trombonist Michael Stroeher, tubist George Palton, and soprano Marlayna Maynard. Ms. Cushing is also an active teacher and was invited to be a guest instructor at Bowling Green's Summer Music Institute in 2008. She recently returned to Huntington, WV and is currently teaching piano and theory at Marshall University.
Keywords
cello and guitar clinics
Disciplines
Arts and Humanities | Fine Arts | Music | Music Performance
Recommended Citation
İleri, Özge and Cushing, Alanna, "Marshall University Music Department Presents a Cello & Guitar Day, featuring, Guest Artist/Clinician, Özge İleri, cello, assisted by Alanna Cushing, piano, MU Cello Quartet, MU Guitar Ensemble" (2010). All Performances. 469.
https://mds.marshall.edu/music_perf/469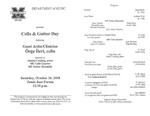 Included in
COinS